STAR SEMENING COURSE 2018 - ASTRONOMICAL RHYTHMS IN BIODYNAMIC AGRICULTURE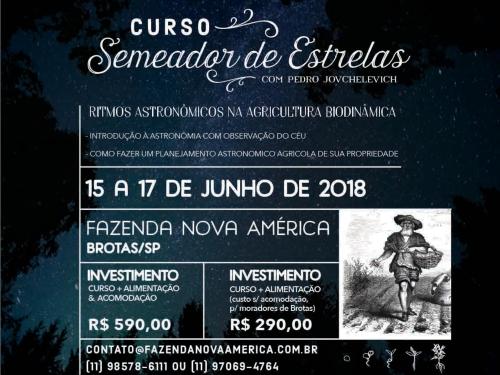 Teacher: The course will be taught by Professor Pedro Jovchelevich
Date: June 15 to 17, 2018
Investment: R $ 590,00 >> Course + Food + Accommodation
Topic covered: Introduction to astronomy with sky observation & How to do an astronomical agricultural planning of your property
Timetable:
Friday
Night
Initial submission
Constellation drawing and sky observation
SATURDAY
Morning
Theater of the solar system
Software stelarium, videos
Note shadows of each
Half a real day?
Afternoon
Manual work: size and orbit of planets, sun, moon
Astronomical planning agricultural-vegetables
Night
Constellation drawing and sky observation
SUNDAY
Morning
Sky Watching
Scientific studies-Chronobiology (plants and animals)
Astronomical planning agricultural-animal
Evaluation
BIODYNAMIC AGRICULTURE COURSE 2018 - LEARNING TO CULTIVATE THE EARTH
Teacher:
João Ávila and Angelica Vieira
Date:
July 26, 27, 28 and 29, 2018
Investment:
R $ 953,00 >> Course + Food + Accommodation
Topic Covered & Timetable:

Introduction: What is Biodynamic Agriculture?
Emancipation, interiorization and verticalization.

Reading the Agricultural Course (1st and 2nd lecture)
Biodynamic calendar
Planets and pigments
Rhythms of the seasons
Evolution and Freedom Artistic activity: Goethe's Phenomenology

Agricultural Course Reading (3rd and 4th lecture)
The Biodynamic Agricultural Organism
Free Production / Composting Factors
Minimum cultivation in horticulture and grains
Agricultural individuality
Polarities: the cosmos and the earth - Si, Ca, P, K, S.
Artistic activity: metamorphosis of Goethe plants

Reading Agricultural Course (5th and 6th lecture)
Field and composter preparations
O Fladen
Practice: Preparation of preparations / pulp BD / dinamization
Practice: Control of plants, insects and animals.

Reading Agricultural Course (7th and 8th conference)
Trimming of animal and human organism
Grazing, intercropping and fertilization + animal nutrition
The essence of fertilization and nutrition
Biological transmutation at low energy Artistic activity: Animal tripling (clay)